Recognizing Squirrels
Although homeowners often delight in the antics of squirrels, these pesky rodents also may become a major nuisance in the yard. Eight species of tree squirrels, the most common being the fox squirrel and the eastern gray squirrel, roam regions of the US. There are also black squirrels, red squirrels, western gray squirrels, northern and southern flying squirrels, Douglas squirrels or chickaree, and tassel-eared squirrels. Masters at adaptation, the ability of squirrels to accommodate to changing environments accounts for their success in the cities and suburbs of America. They actually do very little harm.
Squirrels are quick and agile, climbing trees and jumping from branch to branch effortlessly. When jumping, they use their distinctive furry tails to keep their balance. They have sharp senses of smell and hearing. While they only see shades of black and white, their keen eyes detect the slightest movement. Squirrels are most active in early morning and late afternoon. Flying squirrels, the exception, are only active at night and can glide up to 150 feet.
Squirrel Life
Squirrels build winter nests in snug tree hollows where they raise their young. They usually breed twice a year, once in the middle of winter, and again in May or June if food supplies are generous. A typical litter numbers 3 or 4 blind, toothless, hairless babies which become independent in 10 weeks. Gray squirrels take two years to become full-grown and to learn all their gymnastic tricks. They construct summer nests from leaves in the branches of trees.
Although they are the fastest rodents, capable of running flat out at 17 mph, squirrels have many natural predators, including foxes, raccoons, weasels, hawks, owls, and tree-climbing snakes. Swimming squirrels are nabbed by pike, pickerel and bass. Many squirrels are killed by cars, cats, and disease; some are electrocuted when they chew through electrical insulation.
Consequently, although many species, such as the eastern gray squirrel, have an expected lifespan of 10 years or so, few manage to survive more than 2 or 3 years.
Squirrel Feeding Habits
Gray squirrels and fox squirrels typically eat wild tree fruits and nuts in fall and early winter, especially acorns, hickory nuts, walnuts and Osage orange fruits. Although squirrels do not hibernate, they collect and store nuts and seeds for the winter. In the spring they nibble tender leaf buds on trees. In summer they eat fruits, berries, and other succulent plant parts, sampling wild mushrooms and other fungi, corn, and orchard fruits when available. When other foods are scarce, these squirrels may chew bark from trees, and some insects and other animal matter.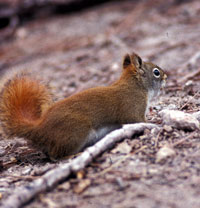 Red squirrels depend largely on evergreen trees for cones and buds but will also eat a variety of other foods common to gray and fox squirrel diets. They may also forage for insect larvae, shed antlers, bird eggs, young birds, and sugar-maple sap. Douglas squirrels depend largely on Ponderosa pine seeds. Flying squirrels like nuts, seeds and fruits too, and as our most carnivorous squirrels, will eat bird eggs and nestlings, insects, and other animal matter when available.