The care information provided in this section represents the kind of practical advice is available for all the plants in this web site if you subscribe to the monthly customized newsletter Yardener's Advisor. Click here for details.

Watering
In their natural setting beebalms are found along stream banks and in moist woodlands. Because they obviously like moist soil they grow best if they get 1/2 to 1 inch of water per week from rainfall or watering. If their soil is rich in organic matter and they are mulched they will require less water. However, don't let the plants dry out. Those located in full sun will need more attention to watering than those in partial shade.

Fertilizing
Every spring sprinkle a scant handful of general-purpose, slow-acting granular fertilizer on the surface of the soil around the clump of beebalm for the rain to soak in. Do not overdo. It is better to err on the side of too little rather than too much fertilizer with beebalms.

Mulching
Mulching beebalm plants with some kind of organic material helps control weeds, conserves soil moisture and improves the soil as it decomposes. It also helps to control the spread of mildews and other fungal infections that often splash up from the soil onto plant foliage. Spread a 1 or 2 inch layer of chopped leaves, wood chips, shredded bark, or other attractive organic material over the soil around the base of each clump of beebalm. Do this over the winter also, after you have cut back the dead stems, to insulate the soil from extreme temperature fluctuations that sometimes disturb plant roots.
For more information see Using Mulch.

Pruning/Grooming
Cutting back the stems after their flowers have bloomed and faded will encourage beebalm to bloom again later in the summer. It will also minimize unsightly mildew on the foliage as it promotes a flush of new foliage growth.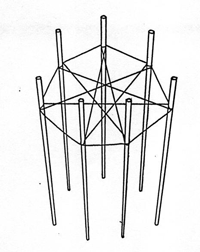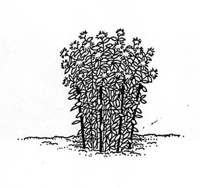 Staking
While beebalms have fairly stout stems, it is a good idea to support clumps over 2 feet tall in case of severe summer rainstorms. Insert green bamboo stakes or something similar around the circumference of the flower clump and then loop string around the stakes and back and forth across the clump to form a supporting matrix for the stems.