New For 2004
Prince Charming Lilac from Bailey Nursery for 2004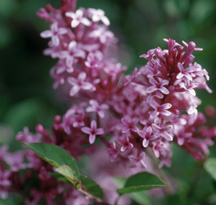 © Bailey Nursery
The newest addition to Baliey's Fairytale™ Series of dwarf lilacs,
Prince Charming™
has irresistible color and form. A beautiful, small lilac with a neat, compact habit. Deep, wine red buds appear in late spring and mature to lavender-pink blossoms. The combination of the two colors on one panicle is very attractive. The fragrance is warm and spicy. Prince Charming™ needs full sun and well-drained soil and will not tolerate wet feet. Well suited for a low hedge or specimen plant but really impressive when planted en masse. For a retail source of this plant go to
:www.baileynursery.com
and go to the "Find Our Plants" section.