Birds are a wonderful addition to a backyard. The birds in your neighborhood can survive without supplemental feeding, but it is tough on the small birds when the snows arrive. If your birds are dependent upon wild seeds they can survive but they will not visit the backyards.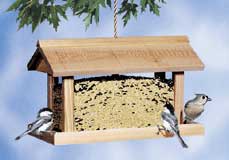 © Perky Pet Brand
Feed Birds Year Round
Backyard bird feeding is a convenient and popular way to enjoy wildlife. About 65 million Americans of all ages do it, spending roughly half a billion dollars a year on birdseed. Not only do colorful songbirds add beauty and activity to the yard, but they are also important allies in controlling insect pests and weeds without chemical pesticides. While certain birds become nuisances when cultivated fruits and berries are ripe, it's worth the trouble to take precautions to avoid these problems. The effort will be repaid many times over by the pest management services wild birds provide throughout the growing season.
Offer food at the feeder all year, varying the amount and frequency with the amount of natural food available in the area as the seasons pass. Wintertime feeding is most intensive. Backyard bird feeding doesn't significantly blunt winter's impact on overall bird populations, but it may make a life and death difference for local populations of certain bird species. Continue it well into spring until insects and plant nectar and seeds are available to birds. When the growing season is in full swing and birds are starting their families, continue to put out food occasionally to help mom and pop feed the kids. In landscapes rich with a variety of plants birds can find food through the fall and only need to snack at your feeder.
More Food Means More Birds
The territory in which a songbird family lives is largely controlled by the availability of food in any yard. The more food that is available in a single yard, the smaller the territories of each of the songbird species in that same yard. The more species you have in your yard, the more pest insects will be controlled.
For information about different kinds of bird feeders go to the
bird feeder section
of Yardener's Tool Shed