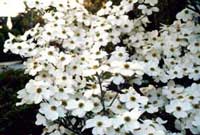 ©Bob Lollo
Flowering Dogwood
(Cornus florida)
Flowering Dogwood has it all. It gives us something for every season of the year and then some. It is noted for its flower, fruit, foliage, fall color, bark, flower bud, and layered branching. This tree matures at 15' tall by 25' wide or even larger under optimum conditions, but often grows smaller in non-Southern climates or under stressful conditions.
They spread as wide as they are tall, their horizontally growing branches giving a tiered and flat-topped profile as they age. You can raise them either as a single trunked tree or as a multi-stemmed shrub. The bark is reddish-brown to black and broken into small, four-sided, scaly blocks. Flowering Dogwoods are slow-growing and may live to 100 years or more. However in recent years their longevity has been drastically reduced by a dieback disease (see below for more details).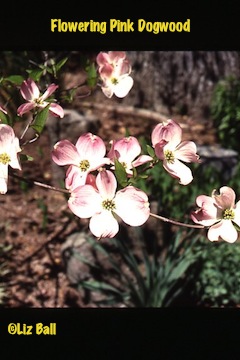 Flowering Dogwood can be something of a prima donna when it comes to growing conditions. The pH of the soil is extremely important for this species to survive and thrive, as it is intolerant of alkaline pH soils and struggles in neutral pH soils. It also does not do well in dry soils, poor soils, compacted soils, wet soils, or during periods of prolonged heat and drought. On the plus side it performs well under high humidity conditions.
Dogwoods are deciduous; their leaves (drop)late in October. Flowering dogwood leaves are arranged opposite each other on the branches. The 3 to 6 inch leaves are egg-shaped, with prominent veins aligned almost parallel to the leaf edges. They turn scarlet red in the fall.
When the Flowering Dogwoods bloom in late April or early May, you know that spring has finally arrived to stay. The flowers unfold from the round, conspicuous, gray winter flower buds before the leaves come out. Their large creamy-white or pink "flowers" are actually bracts, or modified leaves. These bracts, or petals, have a distinctive notch at their rounded tips. Four bracts surround the true flowers, which are very small and yellow, clustered in the center. In early September through mid-November, small, bright red, football-shaped, crunchy inedible berries develop in their place in clusters of 4 to 8. Favorites of songbirds, water birds and many animals, these berries will last until December if they aren't eaten first.
Flowering Dogwood Choices
Many cultivars of Flowering Dogwood are available in the marketplace. They will vary with white, pink, or red floral bract color, density of blossoms, or variegated foliage. Cherokee Chief has red-pink flowers, with foliage emerging reddish-bronzed and becoming green. Cherokee Sunset also has red flowers. Its foliage emerges green with a dark pink margin, changing to a creamy yellow margin Fall color is pink-purple,and it is resistant to anthracnose. Then Cherokee Princess has large white flowers, blooming profusely every year and a little bit earlier in the spring than other cultivars. Hybrids of the flowering dogwood and , such as Stellar Pink™ (pink) and Ruth Ellen™ (white) have been bred to resist borers and anthracnose. Their fruit and flowers resemble their kousa parent. They also bloom a bit later in May than flowering dogwood. Some flowering dogwood varieties, such as Tricolor, Cherokee Sunset or Rainbow have variegated foliage of green and white or cream, sometimes with a pink tinge.