There are a number of key variables to consider when you walk into the store and are confronted with a whole line of lawn mowers priced moderately to very high.

Size of Your Lawn - This will determine the type and size of mower that is best for you. It will also be important in your choice of propulsion system.

Engine - Here you are looking at the power (how much horse power?), how it starts, and whether it is a two stroke or a four stroke engine.

Bag Position - This is a function of your preferences when you see the different models.
A power walk-behind lawn mower is major financial investment. This file tries to help give you the various criteria you should consider before making that investment.
A Mulcher Is Only Choice
ONLY A MULCHER WILL DO THE JOB

Why A Mulcher? - Yardeners interested in having the best looking lawn that takes the least amount of time to maintain have only one choice when it comes to the choice of lawnmower. They need a mulching mower. The mulching mower cuts of the grass clippings so small that they fall down to the soil level in amongst the grass plants even in a dense lawn. The mulching mower is the only type of mower that can chop up leaves fine enough for them to settle down to the soil level and provide organic material to the soil denizens thanks to the efforts of earthworms.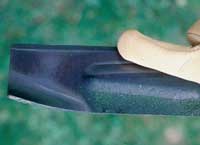 © Bob Lollo
Buy A "Dedicated" Mulcher
- A regular rotary lawn mower can have a mulching blade attached, however it will never be as effective as a mower built to be a mulcher from the beginning. The manual reel mowers can only cut the blade of grass once so cannot mulch at all. The mulching function needs a deeper mower body, a special blade, and an interior design inside the bell or body that allows the blades to be held up inside the body long enough to be cut 3 to 5 times before being thrown forcibly back down on to the turf.
Here are the primary reasons for considering using only a mulching type of lawnmower:
You save time
- Leaving the clippings as you mow means that mowing the lawn takes 30% less time than when you collect and bag the clippings. Mulching in the leaves instead of raking them and bagging saves many hours of drudgery each fall. Leaving the clippings and mulching in leaves means less fertilizing, less watering, and less need for pesticides, all activities that take up time.
You save money
- A mulching lawn mower, when maintained properly should last at least 15 years. By using the mulching mower to leave the clippings and mulch in leaves in the fall, you reduce fertilizer needs to one application a year in the fall. That reduces costs of fertilizer when projected over 15 years. You water less saving money on water. You use fewer pesticides which cost a lot of money for most homeowners each year. In 15 years you will save many times the cost of the money in savings on fertilizer, water, and pesticides.
You have the best looking lawn in the neighborhood
- When you follow the lawn maintenance advice found in other parts of this CD-ROM and use a mulching mower to mow the grass, you will have in less than 5 years a very low maintenance lawn growing in wonderful soil. It will stay green during the summer, grow more slowly because it is healthy, and will look as good and probably better than any other lawn in the neighborhood.
Size Of Lawn Is Major Criteria
The size of the lawnmower you buy is directly related to the size of the lawn you have to mow.

There are four general choices, all being mulching mowers.

1. The walk-behind rotary mulching mower is for the average sized, generally level lawn from 1/4 of an acre (10,000 square feet) down.

2. The front end self-propelled rotary mulching mower is for the average lawns that are mostly level with few serious hills.

3. The rear end self-propelled rotary mulching mower is for when you have a lot of hills or slopes and for bigger lawns up to ½ acre.

Maintaining a Power Lawn Mower
No matter which mower you finally choose to buy, the health and appearance of your lawn in the long term is going to be a function of how well you care for your new tool. For details go to the file in Yardener's Tool Shed
Solving Lawn Mower Maintenance Problems