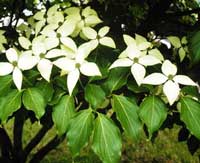 © Bob Lollo

Kousa Dogwood (Cornus kousa)
Kousa Dogwoods s are sometimes called Japanese Dogwood, or Chinese Dogwood. This tree is more and more being used to replace the Flowering Dogwoods that are dying in such disturbing numbers. Kousa Dogwoods grow to about 21 feet tall at maturity, a bit smaller than the Flowering Dogwood. They are quite bushy, and they spread as wide as they are tall in a distinctive horizontal branching habit. Kousas can be multi-trunked, or single-trunked with a very low branching habit. The light brown-gray trunks are interrupted by smooth yellow-beige or dark gray-white blotches that make the bark rather ornamental with age.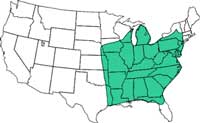 The Kousa Dogwood is a bit less picky when it comes to growing conditions. It prefers moist, well-drained, acidic soils in partial sun, but is adaptable to dry soils, compacted soils, and neutral to alkaline soils. It needs irrigation during the hot, dry periods of summer, to lessen the degree of leaf scorch that may occur, especially on trees transplanted within the last three years that are re-establishing

Like the Flowering Dogwood, the Kousa is deciduous; dropping their leaves late in October. Kousa leaves are arranged opposite each other flatly on the upper side of the branches. They are egg-shaped, from 1 1/2 to 2 inches long with prominent veins aligned almost parallel to the leaf edges. Foliage on the 'Chinensis' variety may be slightly larger, up to 3 1/2 inches long. They turn a stunning scarlet red in the fall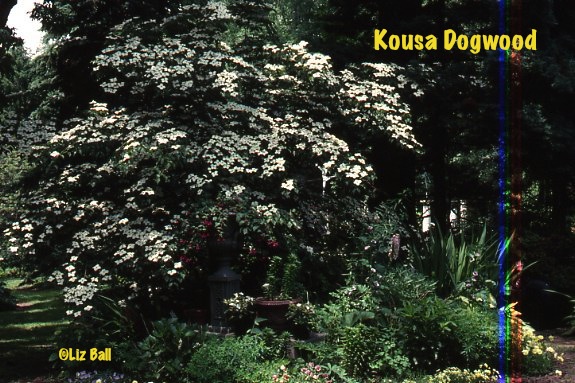 Kousa Dogwoods bloom in late May or early June, about three weeks after Flowering Dogwoods. They have a four to six week bloom period which includes the early part when the bracts are still small and have a lime color. These bloom then become large creamy-white "flowers" which are actually 4 bracts, or modified leaves, which appear on the upper side of the horizontal branches. They are 1-1/2 to 2 inches long, featuring distinctively pointed tips rather than the familiar notched bracts of flowering dogwood. The bracts surround the tightly clustered small yellow true flowers. Sometimes spots of pink appear on white petals/bracts as they fade. Some Kousa Dogwoods have pink or rose-colored flowers. In September bright red fruits shaped like large raspberries on long stems dangle from the branches. They last until December if the birds do not get them.

Kousa Dogwood Choices
There are many kinds of Kousa Dogwoods available. They vary in height, time of bloom and flower color. There is one for every situation in the yard. Chinensis has 5 to 6 inch wide blooms and an ultimate height is 18 to 25 feet with similar spread. It is a winner of the Award of Merit from the Royal Horticultural Society. Milky Way has unusually abundant white flowers and a wide, bushy form. Goldstar has white flowers and variegated foliage. A wide yellow stripe runs through the center of the leaves. It is slow-growing, reaching only 10 or 12 feet. Weeping forms of are Lustgarten Weeping and Elizabeth Lustgarten. Hybrid dogwoods bred from Kousa and Flowering Dogwood parents bloom in early June, mid-way between the two parents. They are bred to be more resistant to borers, leafspot and canker. Look for these trademarked names: Rutban Auroraä is a winner of the Pennsylvania Horticultural Society's Gold Medal Award. It has an upright habit, large white blooms in mid-May and grows to 19 feet in about 20 years. Rutlan Ruth Ellenä is lower spreading with more horizontal branching, and blooms early in May for up to two weeks.