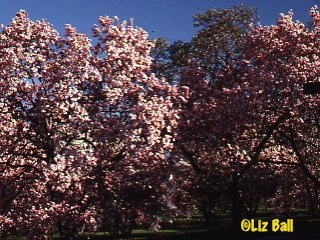 Magnolias (Magnolia sp.)
Magnolias are well on their way to becoming one of the most popular flowering trees in residential yards. Offering a wide variety of size, form, foliage and bloom, these adaptable trees have become real favorites of homeowners. Twenty-two kinds of these lovely trees with considerable ornamental value are available for landscape use. They are relatively tolerant of common air pollutants; so many magnolias do well in urban areas.

While many people consider the magnolia an integral part of the southern landscape, more and more people are discovering that magnolias are a species that actually thrive as far north as Zone 3 as in Canada. Of course I will cover the queen of the south, the Southern Magnolia. But then I am recommending magnolia trees for the north, two small deciduous trees come to mind: the Saucer Magnolia and the Star Magnolia.
Japanese Magnolia Is Unusual