The Right Place
Careful attention to cultural requirements will assure that your coreopsis plants are free from stress. Stress-free plants are less likely to experience problems. Most coreopsis grow and flower best in locations with full sun, but they appreciate some light afternoon shade in regions where summers are extremely hot. They grow in practically any soil, but prefer light, sandy, or ordinary, well-drained soil that is slightly acid to slightly alkaline (pH 6.5 to 7.5).

Plant them as seeds or young plants from the nursery in the spring or fall. Allow them space to spread, which they will do quickly. Lance-leaved coreopsis varieties are often short-lived (1 to 2 years), but reseed reliably.

Planting Nursery Stock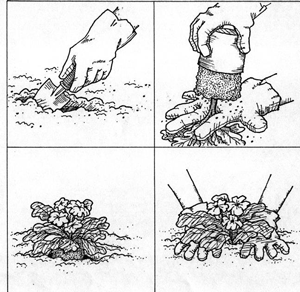 Plant on an overcast day, or late afternoon on a sunny day, to protect new plants from the hot sun while they recover from transplant shock. Clear the planting area of weeds and debris. Remove seedlings from their pots and untangle any matted roots, spreading them gently.
With a trowel, dig a hole that is wide enough to accommodate the root system and equal to the depth of the container the plant arrived in. Space individual plants 10 to 12 inches apart. Set each young plant in its hole so that the crown of the plant--the thick area where the root system and the stems meet--is just at the soil surface.
Fill in the hole with soil, firming it gently around the plant stems. Water generously at planting time and regularly for a few weeks afterward to help the plant establish itself. Coreopsis spreads rapidly and plants will merge into a handsome clump.
Amendments In Planting or Transplanting Coreopsis
There are a number of products at the garden center that will help your newly planted or transplanted plants deal better with the stress inherent in the planting process. All healthy plants have beneficial fungi, called mycorrhizal fungi, living on their roots. You can buy these valuable additions to your plant's ecosystem. See the file describing
Using Micorrhizae When Planting
.
In addition, there are a number of products such as seaweed, compost tea, and beneficial soil microbes that when added to the planting process will help your newly established plants get going faster. See the file
New Technology In Plant Growth Activators
Propagating Coreopsis
While many coreopsis varieties reseed themselves easily, new plants from seeds of hybrid types may not resemble their parents. To assure that new plants are identical to the parent, divide these oversized clumps in early spring or fall.
Dig each clump up so that their root systems are exposed. Pull or cut apart sections of plants, keeping their roots in tact. If they are matted you may have to slice through the root mass with a sharp knife, shovel or spade. Replant rooted sections of the original clump about 12 inches apart or in new locations. Division is most successful with bigflower coreopsis.