Staghorn Sumac (Rhus typhina)
Staghorn Sumac is the largest and the hardiest of the native sumacs. It can be a loose open spreading shrub thicket or a small tree. Either has picturesque branches in the winter. Staghorn Sumac grows rapidly, tolerates most exposures and poor soil but is short-lived. The main ornamental feature is bright red fall color.

The leaves are long at 12 to 24 inches displaying from 13 to 27 leaflets along the stem. The 4 to 8" panicles of greenish white flowers appear in summer turning into velvety bunches of fruit (staghorns) in the fall. The red fruits are produced on terminal panicles and will last all winter until the birds get them. In the fall the leaves will turn red, yellow, orange, scarlet, or a red velvet color; quite spectacular if the thicket is large.


Staghorn Sumac Choices
Tiger Eyes Staghorn Sumac from Bailey Nursery for 2004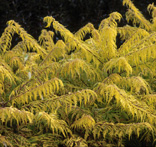 © Bailey Nursery
Tiger Eyes™
(Rhus typhina 'Bailtiger')
offers an amazing spectacle of color. The new growth is a vivid chartreuse green, quickly changing to bright yellow. The leaf stems are fuzzy purplish-pink and form a dramatic contrast with the lemon lime foliage. The branches angle upward while the deeply cut leaflets drape downward giving the whole plant a rather elegant, oriental look. As beautiful as Tiger Eyes™ is in the summer, its colors are absolutely magnificent in the fall as it turns a luminous combination of yellow, orange and intense scarlet.
Tough and easy to grow, Tiger Eyes differs from other sumac in a number of ways. The most obvious being its' small size, reaching a manageable height and width of just 6 feet. Another major difference is that it spreads slowly and should not be considered invasive. They prefer full to part sun, are not particular about soil type and best of all, are quite drought tolerant once established. Tiger Eyes Sumac is hardy in zones 4-8. For a retail source of this plant go to
www.baileynursery.com
and go to the "Find Our Plants" section.