Many flowers support themselves without assistance. But those that are taller than about 2 feet will often need staking. Zinnias, for example, may fall over from the weight of their blossoms or from heavy rains or winds. The same is true of peonies, dahlias, lilies, and delphiniums, to name a few. These plants will look more attractive if they're supported or staked in some fashion, and the stems won't be broken by wind or rain. You can rig your own staking system with bamboo sticks and string, or you can purchase ready-made staking devices that are sold in some garden centers and through catalogs.

There are two approaches to staking flowers – individual stakes for single-stemmed plants like larkspurs or dahlias; group staking for multi-stemmed plants like peonies or lilies.

Single Plant System
- The best technique for single plants is to wrap yarn or string around the stake once, then circle it lightly around the plant before coming back to the stake to tie the knot. Tie the plant to the stake about two-thirds to three-quarters of the way up the stem. Avoid using stakes that are taller than the plant because they ruin the look of the garden.
Group Staking System
- When you need to stake a clump of flowers, don't simply run some string around the outside of the clump; that won't look natural and will detract from your garden's appearance. Our friend, Charles Cresson, a horticulturist in the Philadelphia area, has developed a special staking technique that he has used successfully for many years. Insert several bamboo takes about 8 inches apart around the outside edge of clump of plants that needs staking. Angle them outward from the plant slightly. Using a ball of green twine that fits comfortably in your hand, tie the end to stake and pass it through the middle of the clump, then wrap it around the opposite stake a couple times before passing it through the plants to another stake on the opposite side. Do this until all the stakes are connected by a web of string.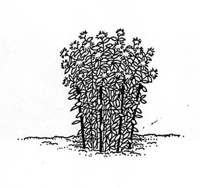 The final step is to loosely circle the clump by connecting the stakes around the perimeter. This matrix of string supports the clump in a very natural fashion from the middle as well as from the sides. The leaves should hide the stakes and twine, Cresson recommends that you set up this support system right before the plants start to flop over (probably as the flower buds show color) or just before bad weather, which can knock over the plants, is expected.