All the rabbit control products are available in our Yardener's Tool Shed; click here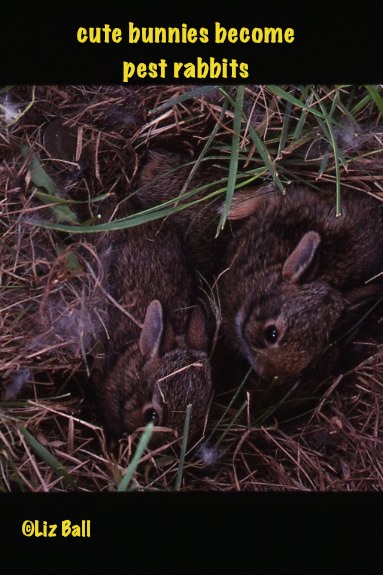 For small areas such as the vegetable garden, some form of physical barrier is probably the best way to deal with most rabbit situations, if you are in an area with a healthy rabbit population.

However, we feel that the sure method is having a male cat in the family. In our experience, his practice of "marking" his territory has significant effect on the rabbit population in the yard.

Rabbits, if they are really pesky, can probably be repelled by aggravating them to their limit of tolerance. The trick is to insult their various senses (taste, smell, sight, etc.) individually over a period of weeks or months. Use a different sense to insult every two weeks. Use a taste repellent the first two weeks, then a smell repellent for a few weeks, and then confuse the dickens out of them with a burning sensation repellent or a motion repellent. By alternating 3 to 5 different repellents over a period of 6 to 8 weeks, you are likely to see few rabbits romping in your yard and garden.

Remember, if you choose to trap a pest rabbit, you must not simply take the pest out to the boonies and let it go. Transporting rabbits to other places is bad for the ecosystem and usually against the law. The trap is to catch the rabbit so you can kill it humanely.

Plants Vulnerable to Rabbit
Rabbits are year round pests in most parts of the US. They feast on cultivated and wild plants during the growing season. In the winter they forage for woody plants, nibbling tender stems and bark of a large number of trees, shrubs and vines. They destroy these plants by girdling them or clipping them off at the ground.
Some favorite rabbit foods include:

Preferred Rabbit Food

Barberry

Lettuce

Sugar maple

Basswood

Peas

Sumac

Beans

Oak, red/white

Tender tree bark

Carrots

Raspberries/ brambles

Tulips

Clover

Red maple

Turfgrasses

Dogwood

Roses

Weeds

Honeylocust

Strawberries

Willow
What Rabbits Don't Like
Rabbits ignore corn, cucumbers, peppers, potatoes, squash, and tomatoes.
Plants Resistant to Rabbit
Although it may seem as if rabbits eat everything, there are many perennial flowering plants that they avoid.

Not Rabbits Favorites

Anemone

Hosta

Artemisia

Iris

Aster

Lamb's ears

Astilbe

Leopards-bane

Barrenwort (Epimedium)

Lily-of-the-valley

Bellflower (Campanula)

Meadowsweet

Bergenia

Monkshood (Aconitum)

Bugbane (Cimicifuga)

Narcissus (Daffodil)

Catnip

Narcissus (Daffodil)

Christmas rose (Hellebore)

Peony

Colchicum

Polygonum

Columbine

Poppy

Corydalis

Red hot poker

Daylily

Sedum

Everlastings

Solomon's seal

Foxglove

Wild indigo (Baptisia)

Gentian

Trillium

Geranium

Yarrow

Globeflower

Yucca