Very beautiful when planted in masses, evergreen azaleas are valuable throughout the growing season for their cool, glossy green foliage as well as for their splendid spring flowers. They combine well with spring bulbs, ferns and both needled and broad-leaved evergreens. Shrub borders, groupings and foundation plantings all show off the plants especially well.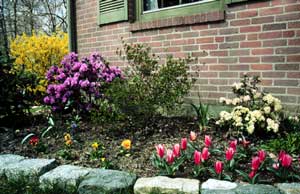 All evergreen azaleas adapt well to containers as long as they are large enough to accommodate the rootball comfortably. Give the azalea soil rich in organic matter, plenty of water and protection from summer sun and winter cold. The soil in azalea containers should have a high proportion of peat or other coarse material like sand. A professional soilless potting mix is ideal for use in containers because it is light and holds water well. You will need to fertilize potted azaleas periodically. Either add a granular slow-acting fertilizer to the planting medium or add very dilute liquid general purpose fertilizer formulated for acid-loving plants once a month when you water. 'Gumpo' and 'Gumpo Pink' are spreading and somewhat pendulous azalea varieties that are well suited for hanging pots.
Forcing/Cutting For Display Indoors
Budded Azalea branches will bloom indoors as early as February.
However, the closer they are to their normal bloom time, the faster they will bloom prematurely indoors
. Cut stems on a mild day. The more swollen the buds, the sooner they will open in the warmth of the house. To maintain a pleasing natural shape for the shrub, choose branches that the shrub will never miss. The longer the selected branches the more flowers there will be. Long stems are also more versatile for indoor arrangements.
Once indoors, cut off the ends of the branches for a fresh cut, slit the woody ends to help them absorb water, and immediately immerse them in warm water to soak for 3 to 4 hours. Strip off any leaves that will be underwater, then place them in a dimly lit, cool place until the buds begin showing color.
Change the water periodically. When you see some color in the buds, arrange the Azalea branches in a vase with fresh water. Add some commercial floral preservative or some citrus-based carbonated soda (non-diet) to the water to prolong their freshness when the flowers open. Bring them into a bright room where they can be appreciated. These blooms should last about a week and lift winter weary spirits.
If you choose to wait until they bloom outdoors to bring some in, cut the branches just as the buds are showing color. Put them in water as described above. Display them alone, or combined with spring bulb flowers such as early tulips, daffodils and other flowering shrubs such as forsythia and Azalea. For more information see the file on
Keeping Cut Flowers
and
Cut Flower Supplies
.
Azaleas can also be pruned as a bonsai specimen.