Question From: OHIO
Q:
I have a 20 plus foot arborvitae that is fastly loosing it's upper branches. I went outside today and saw a plie of fresh branches lying on the ground around it. This occured last year as well and I sprayed the tree as I was told it was bagworm but it still gradually lost the upper branches. I do not see any bags hanging on this tree. I have one in my front yard that does have bag worm, on that one the branches turned brown but stayed on the tree. I treated that last year but unable to take the bags off as they are up high. Do I need to spray that tree this year again. However my main concern is the other tree which I downloaded pictures of. This is in my back yard no where near the bagworm tree. Whats chewing off the braches? I see no other obvious signs of insects or other problems.
(Click Images To View Larger Versions)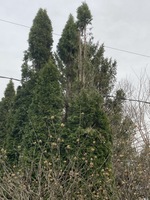 A: Unfortunately I am not an arborist and do not have a crystal ball. If I were you I would get an on site inspection from a certified arborist. You may have several issues. To find one in your area go to
TCIA..org
and enter your zip code. Best And Happy Yardening, Nancy. ..