Question From: Wooster, Ohio, United States
Q:
My arborvitae is losing small branches. The foliage is green and thriving yet the branch looks as though it is trimmed off like a knife cut through it. It happened over winter and I cleaned them up - two trash sack full and now it is happening again. I have pics. Thanks for help.
(Click Images To View Larger Versions)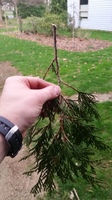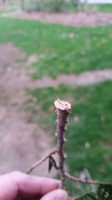 Deer would have eaten them, unless you treated it with a systemic animal repellant. The only other animals that clips the tips from evergreens are squirrels. That's my best guess. I use a product called
PlantSkydd
for both. Best And Happy Yardening, Nancy
Comment:
Thank you. We are in middle of city. But we have thousands of squirrels.