Question From:
B. BECKER
- PENNSYLVANIA
Q:
MY BARBERRY HAS SECTIONS OF MATURE LEAVES AND ALSO SMALLER, IMMATURE LEAVES. I CAN SEE NOTHING WRONG WITH THE PLANT. SECTIONS OF THE PLANT ARE PERFECTLY HEALTHY AS ARE THE SECTIONS WITH THE SMALLER LEAVES. CAN YOU TELL ME IF THERE IS ANY THING I CAN DO TO CORRECT THIS PROBLEM OR IF THERE MAY BE A PEST OR FOOD I CAN TRY? THANKS.
(Click Images To View Larger Versions)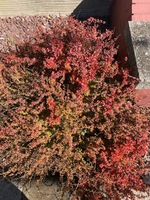 A: I believe it is a weather issue. You can fertilize the plant with
Espoma Plant Tone
, but the smaller leaves will probably not increase in size. Best And Happy Yardening, Nancy.