Question From:
C. Hudson
- Denton, Texas, United States
Q:
Can I save my tree? I love this Bald Cypress but it seems to be struggling. I did have to treat for Bag Worms this summer but I caught them early and completely. Now my poor tree looks like it's dying. What can I do? Thanks in advance for your feedback and suggestions.
(Click Images To View Larger Versions)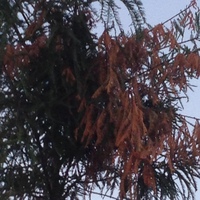 Connie, Your best bet is to get an onsite inspection from a trained tree doctor - a
certified arborist
. He/she will be familiar with the possible diseases and insects that may be attacking your tree. To find a professional in your area go to
www.tcia.com
. Best And Happy Yardening, Nancy.