Question From:
G. Irwin
- Howard City, Michigan, United States
Q:
We have two established Canadian Hemlocks - about 16 feet tall. They are planted side next to each other and both have had considerable new growth this year - wet spring and early summer. A large number of needles closest to the trunk on the Western one have turned brown recently - just a few brown needles on the other one. No signs of insects that I can descern.
(Click Images To View Larger Versions)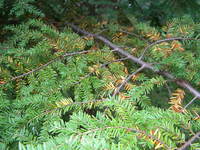 A: Evergreens loose needles close to the trunk as they increase in size. If the rest of the trees look good, Not to worry. When the tips begin to brown, you should begin to worry. Hopefully you did not take the knee-jerk reaction and dump a load of fertilizer on the trees. Best And Happy Yardening, Nancy.