Question From:
J. Gerster
- FLORIDA
Q:
Our 3 Cape Honeysuckle one at a time have developed wilted leaves that next turn brown and die. We live in SW Gulf Coast FL. 2 were thriving and one year old. 5' tall and wide the other was newer and never did thrive. Thought a water issue at first. Cut one down to about a foot. Coming back. Looks ok so far. What do we do?
(Click Images To View Larger Versions)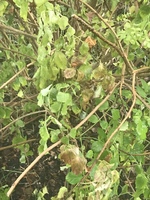 Lack of water will weaken a plant making it vulnerable to fungal diseases and insects. I would take photos and samples of the plants to a good independent nursery or garden center for an accurate ID and form of control. Best And Happy Yardening, Nancy.