Question From: West Tisbury, Massachusetts, United States
Q:
My beautiful coreopsis is being attacked by an thin orange string-like vine that wraps around the flowers' stems and chokes it. This vine seems to be spreading through from one area of coreopsis to the next. I have tried to pull out the affected plants, but it keeps returning. What is it and what can I do?
(Click Images To View Larger Versions)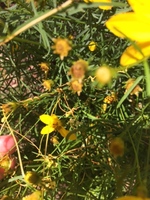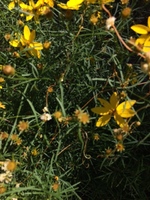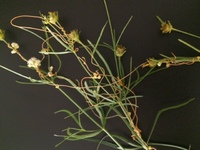 A: Sorry Elizabeth I don't recognize this thug. Painting the leaves with
RoundUp
using a fine art brush is my method of ridding weeds that invade stands of plants. You must take care as it kills what it touches. An onerous job I know, but it works. Best Nancy
Q:
I have since discovered that it is dodder. Do you know how to treat this?
A: I repeat - Painting the leaves with
RoundUp
using a fine art brush is my method of ridding weeds that invade stands of plants. You must take care as it kills what it touches. An onerous job I know, but it works. If you spray the entire stand with Round Up you will sacrifice the perennials, but it will probably be worth it. DO NOT LET IT GO TO SEED. Best Nancy