Question From:
T. Fitzpatrick
- La Junta, Colorado, United States
Q:
Hi Nancy. I hope you can help. I have what I think are firethorn shrubs. I don't recall them ever looking this way, however I've not lived here long. They are usually completely full, kept trimmed round, have shiny green leafs and orange berries. We had a very rough winter. They do have some green, but as you can see not very much. It's only the end of March. Should I be worried or just be more patient? I appreciate your advice!
(Click Images To View Larger Versions)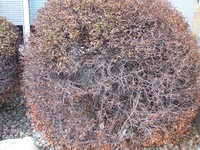 Looks like they have suffered winter burn. Be patient and see what happens. Do make sure to keep them watered if Mother Nature fails to do her job. Best Nancy and Thanks for visiting Yardener.com.