Question From:
R. Martin
- MICHIGAN
Q:
My forsythia bush has developed a severe fungal infection with galls. Should I trim the entire plant down to about a foot now in August or wait until another season?
(Click Images To View Larger Versions)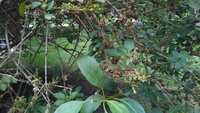 A: Branches infected with the fungal disease should be removed. Be sure to sterilize the pruners after every cut. Best And Happy Yardening, Nancy.