Question From:
D. Rawdon
- OHIO
Q:
My arborvitae is dropping perfectly green chunks of foliage overnight. It has no diseases and is 15 years old. There is no brown on it at all. What could be causing this?
(Click Images To View Larger Versions)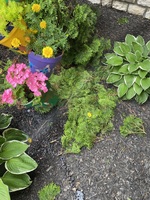 The following animals feed on arbs. Deer are especially fond of *arborvitae* foliage, as are porcupines, squirrels, rabbits, hares and beavers. The height of the damage will give you a clue. Why they are not eating these tender tips is a mystery. A product called
Plantskydd
is effective when used as directed on the label. It's made of bovine blood and vegetable oil. Nasty stuff, but it works. Best Nancy and Good luck.