Question From:
D. Martins
- MASSACHUSETTS
Q:
I have a hemlock tree that has begun to die off from the top towards the center and I would like to know if I cut the dead branches out would that give the remaining part to continue growing ? The problem began after having pavement installed within 3 feet of the trunk. Check out the photo I have included. Thanks
(Click Images To View Larger Versions)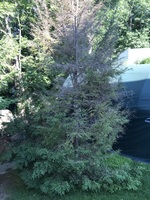 A: The hemlock may survive, but that depends on the degree of damage and root loss. Keeping it well watered is a must. Best And Happy Yardening, Nancy..