Question From:
C. Broderick
- Bloomfield Hills, Michigan, United States
Q:
I planted a number of Helene rose of Sharon (in honor of my boyfriends mother who had passed). started them from bare root. Needless to say they are huge. Can I cut them back? What's the best way to prune and when. None of my gardening books has any recommendations. They can be a hedge as they are along a fence line but they are too much. Help!
(Click Images To View Larger Versions)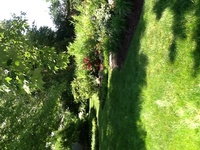 You can prune them back. I'd cut out 1/4 of the old growth and cut the rest by 1/2. Do this in late winter or early spring. When shortening the limbs do thinning cuts rather than heading cuts. That means cutting the limbs back to the branch rather than shorting them. Good Luck, Nancy and Happy Yardening.