Question From: CALIFORNIA
Q:
Something is eating my Cherry Laurel leaves. The attack started last year and is continuing. I have sprayed with both Mancozeb fungicide as well as Advanced Bayer insect and disease control, but the leaves keep getting eaten. I live in Southern California, Zone 10a. After endless searches on line and visits to local nurseries, we're all stumped. Please advise as to what you think this might be and how to control it. Thank you very much!
(Click Images To View Larger Versions)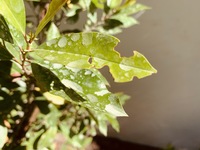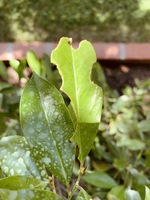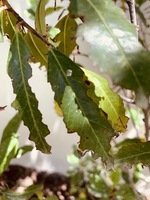 A: I have no idea as I dig in Michigan. We don't share the same bugs. This may be a new invader. I suggest you contact your county extension as they are affiliated with a land grant college or University in your state that has a horticulture school and probably a research program.
https://pickyourown.org/countyextensionagentoffices.htm
. Certified arborists may also have knowledge of it - to find one in your area go two
www.tcia.org
and enter your zip code. Good Luck Nancy and Happy Yardening.