Question From:
K. Oleski
- MICHIGAN
Q:
What can we do to help this Cherry Tree stay healthy? It was born from a seed spitting contest of my four sons. Thats why it is so close to the deck. We love its blooms and its shade. This split has us worried.
(Click Images To View Larger Versions)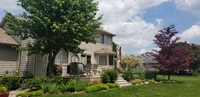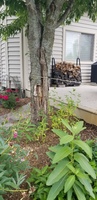 A: I recommend you get an onsite inspection from a certified arborist. To find one in your area go to
tcia.org
and enter your zip code. Best And Happy Yardening, Nancy.