Question From:
V. Hofner
- Brighton, Michigan, United States
Q:
Could you tell me about this plant and why the leaves are suddenly falling off; starting low, near the soil & progressing up? I put out in the sun this year after keeping it inside since I was given it in October, 2015.
(Click Images To View Larger Versions)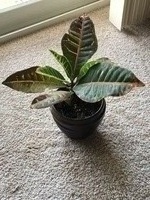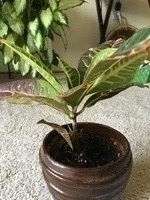 Vivian, your plant is a croton. They usually drop leaves after getting too dry. It's fine to put it outside as long as you harden it off. That is introducing it to direct sun slowly. Popping it into the sun directly from indoors will also cause leaf drop. Best Nancy and Happy Yardening.