Question From:
E. May
- VIRGINIA
Q:
We have a large crape myrtle that was in full bloom and looked really lovely for a couple of weeks in August here in Virginia. We have had an unusually rainy summer, and after a really hard rain over night, the tree suddenly looked wilted and lost all of its flowers in just a couple of days. Is this unusual and do we need to worry about the tree dying? We expected the flowers to drop more gradually over maybe a couple of weeks. We have been a few days without any rain and the foliage now looks like it is recovering. Could voles possibly be damaging the roots? We have not seen any evidence of insect infestation. The tree is in a well drained area, but is mostly clay soil.
(Click Images To View Larger Versions)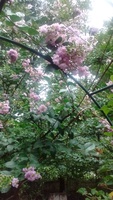 A: Trees have taken a heavy this year and are reacting to stress. Crepe myrtles are not hardy where I live so I cannot advise you. However, iif it were my tree I would get an onstie inspection from a professional - a certified arborist. To find one in your area go to
tcia.org
and enter your zip code. Best And Happy Yardening, Nancy.