Question From:
K. Baker
- WASHINGTON
Comment:
Wanted to let you know that I have found a new use for my violets. A cat cooler on warm days, not my idea but Ginger thought it was a good one.
(Click Images To View Larger Versions)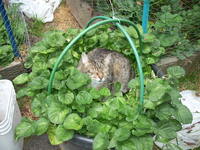 Sweet! Thanks for sharing. Best And Happy Yardening, Nancy.