Question From:
S. Vincent
- Arlington, Virginia, United States
Q:
I am curious when you got the question about white liriope from M. Buco in Potomac, MD. Something similar happened to our liriope this spring (see photos) and we live in Arlington, VA, which is very close to Potomac. I'm wondering if M. Buco was able to figure out what happened to cause their liriope damage.
(Click Images To View Larger Versions)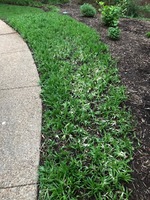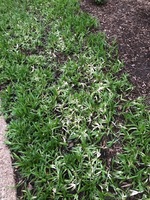 Susan, I did not hear back from her. My guess is your plants are suffering from some sort of fungal disease. You may want to contact. the Lawn and Garden Virginia Cooperative Extension Agent affiliated with Virginia Tech.
https://ext.vt.edu/lawn-garden.html
. They have a lab that can test samples. Best And Happy Yardening, Nancy