Question From:
L. Judah
- WASHINGTON
Q:
What is going on with my honeysuckle? Parts are thriving and some are not?
(Click Images To View Larger Versions)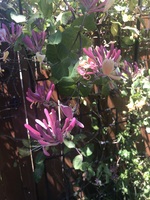 I believe your Honeysuckle has one of several fungal diseases that attack the vines. Take photos and samples of affected leaves and stem in a sealed plastic bag to and independent garden center that sells these plants for an accurate ID and method of control. Best And Happy Yardening, Nancy,.