Question From:
J. Matson
- La Mesa, California, United States
Q:
I have several full-grown pine trees on my property here in La Mesa, CA, on which part of the bark is turning white. This is from the base up 3 to 8 feet. Is this anything to be concerned about?
(Click Images To View Larger Versions)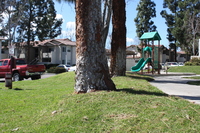 Jeff, I live in Michigan and am not familiar with trees grown in your area. Your trees are very valuable and worth caring for. If they died it would cost a fortune to have them removed. If they were my trees I would get and onsite inspection from a
certified arborist
- a tree doctor. To find one in your area go to
www.tcia.org
. Best And Happy Yardening, Nancy.