Question From:
J. Rekuc
- Rockwood, Michigan, United States
Q:
A neighbor was given this plant. Do you know what it is and if it is a perennial? Do you know where to buy it? Thank you
(Click Images To View Larger Versions)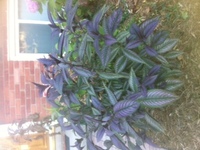 A: Jim, Your plant is a tropical commonly called Persian Shield (Strobilanthes) that can be grown indoors. They are available at most garden centers in season. Telly's in Troy may carry them in winter. Best and Happy Yardening, Nancy.