Question From:
J. Buermeyer
- NORTH DAKOTA
Q:
I have a Pembina Plum tree, it's about 35 years old. It is July and some leaves are turning red and falling off. It has been very hot and dry here so I have been watering it but doesn't seem to help. It's not a big problem yet but curious if it might be some other problem. Thanks
(Click Images To View Larger Versions)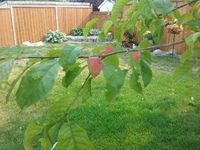 I would get an on site inspection from a certified arborist, To find one in your area go to
tcia.org
and enter your zip code.
Best Nancy