Question From: NEW JERSEY
Q:
Hi Nancy, My shasta daisy has many buds, but everyone of them are burnt, dying or brown. The leaves are growing well and do not have burnt or drying tips. I cannot find an answer to the cause of the buds dying. Help.
(Click Images To View Larger Versions)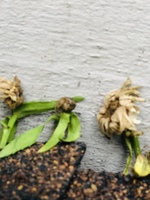 Looks like aster yellows. It's a virus that is terminal. Dig out the plants roots and all and toss them out in the garbage. Do not replant them in this space . Best And Happy Yardening, Nancy.