Question From: MAINE
Q:
Something is eating the leaves on my butternut tree. I'm not sure what they are I've googled it and I I like to know how to get rid of the bugs I'll include a picture
(Click Images To View Larger Versions)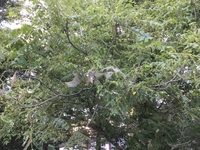 They look like bag worms. Take this photo to an independent garden center or nursery for an accurate ID and method of control. Best And Happy Yardening, Nancy.