Question From:
A. Martin
- Baldwin, New York, United States
Q:
I planted a lovely coreopsis tickseed plant last fall but do not know what spring care is needed. Also I have included photos of my creeping flax, and snow in summer. Do I cut off the browned part or will each rebloom new growth and I should just leave them alone?
(Click Images To View Larger Versions)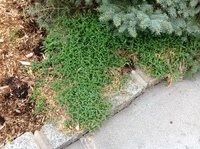 A: Carefully comb out the dead growth if you have time. New growth will cover it. The plant is doing fine. Cut back any dead stalks on the coreopsis. I sprinkle a bit of organic fertilizer on the surface of the soil to give it a boost.
Espoma Plant Tone
is a good choice. Use a light hand. Best And Happy Yardening, Nancy