Question From: GEORGIA
Q:
I have a thuja green giant that has turned a purple color. It's is winter here in GA. All the other trees are green. What could be the cause?
(Click Images To View Larger Versions)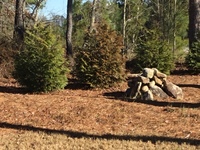 A: Could be a combination of things. The other trees are shading the one in the middle. It may have contracted a fungus. I would take samples to an independent garden center or nursery along with photos. Your county horticulture agent may also be helpful. A certified arborist is another source of diagnosiip codes. Go to
www.TCIA.org
and enter your zip code to find one in your area. Good Luck, Nancy and Happy Yardening.