Question From:
R. Vines
- TEXAS
Q:
My husband bought me a beautiful little red salvia for my anniversary and it was nearly busting out of this little pot. But it was very pretty. I repotted it in some miracle grow soil and watered it during the evening and by the next day it was totally burnt up and within 24 hours it was fried looking. I put it in the sun and kept it a little moist and gave it a little bit of miracle grow into the soil and it is just a little stem now with no flowers and no leaves! I'm so sad! I don't know what to do now!
(Click Images To View Larger Versions)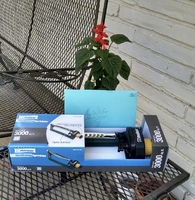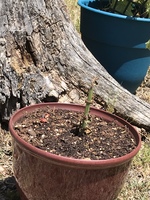 Sorry to say your plant is toast. If it was purchased from a green house and placed in the hot sun, it may have had a sun/heat stroke. Plants need to be hardened off, slowly exposed to the sun. Fertilizing a plant in stress does more harm than good. I water plants well as soon as I get them home. Also when you repot a plant moisten the soil prior to repotting. One part water to three parts potting soil makes a good mix. After potting water it well. Best And Happy Yardening, Nancy.