Question From:
J. Werrell
- New York, New York, United States
Q:
Dear Nancy, I was wondering if you might be able to help. I live in Manhattan with a lovely planted backyard area, for the residence of the building to enjoy. One of the plants we have is Virginia Creeper, the problem I'm trying to deal with is leaf eating insects that are ruining the plants - I have enclosed pictures of the infected/eaten leafs. Can you please help me identify what type of insect is feasting on our Virginia Creeper, and what can I use to get rid off? Many thanks in advance for your help.
I did not receive your pictures, can you please try to upload them again? Thank you, Nancy.


Q:
Thank you very much for getting back to me...here are the photos. Many thanks for your help!
(Click Images To View Larger Versions)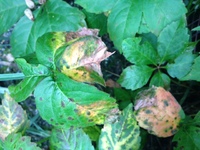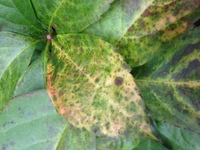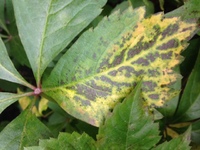 Jaye, Your Virginia Creeper has a fungal disease. It can be treated with a broad spectrum fungicide. There is a listing in the University of Georgia website.http://www.ent.uga.edu/pmh/Hm_Fungicide_Guide.pdf. Any of the Bonide products containing flowable copper or Mancozeb should do the job. Some recommend alternating the two. Do not fertilize as excessive growth will make it worse. You will need to reapply the product several times according to package directions. Best And Happy Yardening, Nancy