Question From: New York, New York, United States
Q:
What is causing the leaves on this plant to turn yellow? lost 90% of the leaves last year? some have come back this year. SEE IMAGES ATTACHED
A: Winter kill - burning of the leaves were common with this plant this winter. Scale is also a common problem - I do not see any attachments (we are looking into technical issues on our side, but your images did not upload correctly somehow).
Bonide All-Season Horticulture Spray
should help. Use according to directions and repeat as recommended. Be sure to hit the undersides of the leaves and the stems. Best And Happy Yardening, Nancy
Q:
OK THANKS! It happened last summer and fall however and the plants were gone before winter. here they are again
(Click Images To View Larger Versions)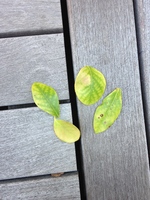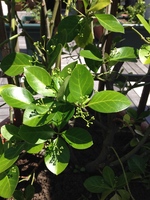 A: Tim, Here is the diagnosis from my friend who teaches hort in Delaware.

This appears to be Euonymus japonicus which gets scale, big time. I cut ours down (within 6" of the ground) at the college about every 7 years to solve this problem since I am not into chemicals. This solution rejuvenates the plant and gets rid of the *major* scale problem for at least a couple of years. The plant is also planted too close to the foundation and probably suffers from heat and drought stress.

Best And Happy Yardening, Nancy