Question From: Maybee, Michigan, United States
Q:
After clearing out and weeding the overgrown area behind her garage, my daughter discovered she had what could be a potentially beautiful garden area. We also unearthed additional rocks that were the same as the border rocks. Being a first time home owner and yard keeper, she could use your help in suggesting what plants that would be ideal for that area. Her thoughts "anything that requires minimum maintenance." The area faces the north and as you can see from the photo has a wall shading the south side. She would appreciate your suggestions. Thank you!
(Click Images To View Larger Versions)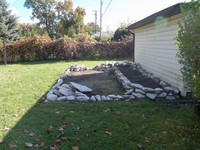 A: Looks lovely, The book
Making the Most of Shade
by my friend Larry Hodgson would make a great Christmast gift that will help her choose what will grow well in this area and she will like. Best and Happy Yardening, Nancy.