Question From:
K. Williamson
- MICHIGAN
Q:
Hi Nancy. I purchased a Cane Tree when I was 18-years old @ the old Home Rama Show (Cobo Hall) in Detroit and I will be 58 years old this July. So I've had this tree for 40 years! It's now approximately 21-ft tall and everyone we know believes this could be some kind of indoor plant record. But what really amazes us is that approximately every 8-10 years, it will FLOWER! It only lasts 2 weeks but the house smells so beautiful that you would think you were inside a Florist Shop. My question is; What causes it to Flower only every 8-10 years? (I've asked every professional Gardening Center including Weigands & English Garden but no one can seem to answer this. They are just as shocked!) Attached are a few photos for your reference.
(Click Images To View Larger Versions)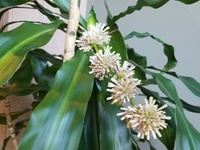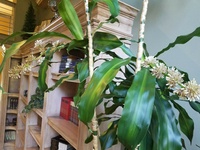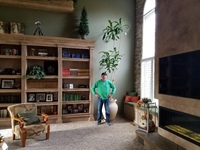 Congrats Ken. I see your giant plant is well located where it gets lots of bright indirect light, which is why it has grown so tall and finally flowered. It would flower yearly if located in Florida or California where the sun shines daily. Best And Happy Yardening, Nancy - indoors and out.