Question From:
s. clark
- Orangevale, California, United States
Q:
I have a three year old four type grafted cherry tree. Last year a white area appeared on the trunk. we sprayed with a fungicide. This year the trunk is deeply split about nine inches. There now is a red area and a green area on the trunk, also the bark on the branches are splitting . Can this tree be saved? will it be expensive?
(Click Images To View Larger Versions)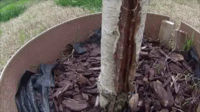 While it's not looking good, I make it a point not to diagnose tree ailments. I am not a trained professional. I recommend you take these photos to nursery or garden center that specializes in trees and shrubs. Not a big box. Better yet get the advice of a tree doctor, a
certified arborist
in you area. Best Nancy and Happy Yardening.