Cilantro (Chinese Parsley, Coriander) Coriandrum sativum, Apiaceae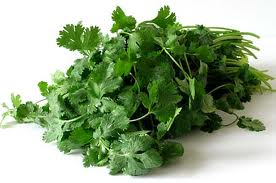 Of all the herbs in your garden, cilantro can be one of the most difficult to grow in Northern USA. Cilantro is a very short-lived plant. Cilantro is a member of the carrot family, and is a highly fragrant annual. It has a taste of parsley with citrus-like overtones. When grown for its leaves, we call it cilantro. When grown as a spice for its dried seeds, it is called coriander. While most people have no objection to coriander, the same can't be said of cilantro. Its leaves have a very pungent odor that some people find objectionable.

Cilantro is one of the oldest herbs to be used by mankind, perhaps going back as far as 3000 BC. It is mentioned in early Sanskrit writings dating back to 1500 BC. The seeds have been found in the tombs of the Egyptian pharaohs and in Grecian ruins from the Bronze Age. It was brought to the British colonies in North America in 1670 and was one of the first spices cultivated by the settlers.

Many gardeners grow cilantro for its savory leaves; however, the entire plant is edible, from root to leaf. Unlike most herbs, cilantro requires cooler temperatures to thrive. It should be planted in the early spring or in the fall when temperatures are cooler. Once the root of the cilantro plant gets above 75 degrees, it will bolt, sending up a flower stalk and turning the leaves bitter; a good reason to keep it mulched with 3 inches of organic mulch which keeps the soil temperature 5 to 8 degrees below soil temps of bare soil.



Planting Cilantro
Cilantro needs to planted directly into the soil so forget about starting it indoors.

If you must buy seedlings - When buying starter plants at the nursery choose smaller plants with plenty of room in the pot and no roots showing through the bottom. Use extreme care when removing them so as not to disturb the taproot.

Direct Seeding - Cilantro is most successfully grown by direct seeding, as the long roots make it difficult to transplant. This herb thrives in damp, cool springs and hot, dry summers. It requires mostly sunshine but can be grown in morning sun and shade in the hot afternoon. Choose a site where soil is well-drained and amended with plenty of organic matter such as compost.


Sow seed at the same time parsley would be sown outside in your growing area. Seed fall crops in late August and spring crops in late March. It needs full sun.

When plants emerge, thin them to 4 inches apart and mulch to conserve moisture and deter weeds. Keep a close eye on young plants to make sure they don't dry out. Once established, it needs just a little water.

To ensure a steady supply of leaves, sow successive crops every three weeks until late summer. In containers, as in the ground, direct seeding is best.

In Containers - Like most herbs, cilantro performs well in containers, but choose pots that are at least 12 inches deep to accommodate the plant's taproot. Use potting soil enriched with compost and water regularly.

After eight to ten weeks the cilantro in your garden will flower. You can keep growing it for the seeds, or simply remove it and plant something else.


Add Mulch - As soon as the plants are over 4 inches tall, add 2 to 3 inches of organic mulch such as chopped leaves, pine needles, straw, and like that.


Care Of Cilantro

Watering Cilantro
When they are first planted outside, cilantro plants need regular watering--an inch of water a week from rain or from a sprinkler--until they become established. 

If you have good soil with lots of organic matter and if you mulch the plants, water them only when it has not rained for a week or two. If you have poor soil with little organic content or plants are not mulched, then you may have to water the plants every sunny day, at least until they are well established. This is especially true for cilantro growing in containers.

A soaker hose system hooked up to an automated watering timer is very effective for delivering water to the herb patch.


Fertilizing Cilantro
Cilantro is a heavy feeder and benefits from some supplemental fertilizer even if it is planted in good soil. When preparing to plant seeds or seedlings, incorporate some all-purpose slow-acting granular fertilizer into the soil to provide steady, consistent nutrition over the season.

If the soil is poor, you may want to also spray cilantro foliage with diluted liquid fertilizer or plant tonic once a month or so to insure healthy growth.


Mulching Cilantro
Cilantro can be affected by competing weeds so mulching parsley helps retain water and keeps down the weeds. Spread 2 to 4 inches of some organic material such as chopped leaves, hay, or straw on the soil around parsley plants when they are about 6 inches tall. 


Problems of Cilantro
This plant rarely has any problems with insects or disease.


Harvesting Cilantro
Cilantro is harvested 60 to 80 days after sowing for use as greens. The inner-most leaf whorls are selected and tied in bunches of 10 to 12. Pinch off leaves as needed early in the morning for the best flavors. Fresh cilantro does not keep very well. It's best to place the cut stems in a glass of water, just like flowers, cover with a plastic bag and store in the refrigerator.
Since cilantro is perishable, place it in plastic bags and refrigerate immediately.

To harvest Cilantro, you can begin cutting as soon as the plant is about 6" tall by removing the outer leaves and leaving the growing point intact for the new leaves to grow from. Or you can harvest entire plants when they're about 6 inches high if you want only the leaves.


Cooking With Cilantro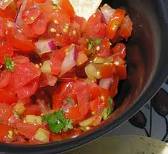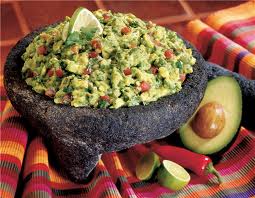 Cilantro is the perfect herb for any salsa recipe. It is widely used in Asian and Mexican cuisine, and many other dishes. Cut a few leaves and toss them into your green salads to give them a fresh tangy taste, or add them to potato and fruit salads. If you've never been much of a cilantro fan, start with small amounts because cilantro does have a strong, unique flavor. Before long you too may become a cilantro lover. Don't forget the guacamole which loves cilantro.
Kuchenprofi No-Mess Herb Grinding Mill
by Kuchenprofi
• The effortless way to chop fresh herbs; pop leaves and sprigs into the hopper, turn the crank and internal blades do the chopping
• Screw-off jar
• No exposed blades; no nicked fingers; no tired wrists
• 18/10 stainless steel hopper and lid; 6-3/4 inches high by 3-3/4 inch diameter
• Dishwasher safe
Chop fresh herbs without a knife! Simply pop leaves and sprigs into the hopper of the Kuchenprofi Herb Grinding Mill, turn the crank and internal blades do all the chopping for you, depositing evenly minced results into the screw-off jar below. No sharp blades, nicked fingers or tired wrists! Dishwasher safe 6-3/4-inch high by 3-3/4-inch diameter.









































































































































































































































































































































































































































































































































































































































































































































































































































































































































































































































































































































































































































































































































































































































































































































































































































































































































































































































































































































































































































































































































































































































































































































































































































































































































































































































































































































































































































































































































































































































































































































































































































































































































































































































































































































































































































































































































































































































































































































































































































































































































































































































































































































































































































































































































































































































































































































































































































































































































































































































































































































































































































































































































































































































































































































































































































































































































































































































































































































































































































































































































































































































































































































































































































































































































































































































































































































































































































































































































Do you have a gardening question? Ask Nancy