Deer Barrier™ By Benner

What is Deer Barrier?
Benner's Deer Barrier is seven and one-half foot high black polypropylene plastic mesh fencing. It is attached to existing trees, and pulled tight from tree to tree with spans of up to 30 feet between trees. The lightweight, high strength fencing is virtually invisible, particularly in wooded settings, and is a cost effective solution to landscape damage without detracting from the appearance of the property. It is available in a variety of lengths and is extremely strong, yet easy to install because of its flexibility. Pressure treated posts or other fencing supports can be used in areas without sufficient trees, such as around vegetable gardens.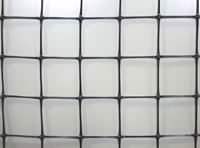 The larger the area to be protected, the more the deer have to adjust their habits, thus the more pressure that will be placed upon the fence system. For enclosing areas larger than one acre, it is recommended gardeners use the new "Deer II"Ô product. Sixty five percent stronger than the standard material, Deer II is also ideal for high pressure areas or deer runs. This product is virtually impenetrable, even to deer colliding with it at full speed.
Installing Deer Barrier
Install Benner's Deer Barrier around the perimeter of the area you want to protect, attached to existing trees where possible. Wood, fiberglass or metal posts will provide added support. It is important to enclose the area completely, since deer will follow the fence line until they find any opening (even the driveway).
There is no danger of damage to fencing or plants when an entire area is enclosed. Occasionally, deer damage fencing when only part of an area is enclosed. They enter from an open area, become frightened and try to escape by running in the other direction. They may not see the fencing and run into it at full speed. Attaching foot-long white streamers (included) every 10 feet will alert deer that a barrier is present. This is especially important along time-worn deer paths.
More Information On Benner's deer control Products
For a catalog and sample or for placing an order:
Call or write Benner's Gardens, Inc., P.O. Box 875, Bala Cynwyd, PA 19004
Phone:1-800-753-4660; Fax: 215-477-9429. E-mail - ______