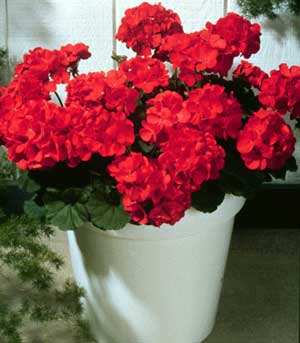 © Liz Ball
Among the top ten most popular annuals in the United States, geraniums are valued by homeowners as care-free, colorful, long-blooming plants.
There are three main types of geraniums. Zonal geraniums are the familiar bedding plants that decorate home landscapes and public places alike. Ivy geraniums and their cascading hybrids are commonly used in hanging baskets and windowboxes. Regal, or Lady Washington geraniums, boast the most ostentatious flowers of all geraniums. All kinds are brightly colored staples in planters and containers of all kinds.
They are primarily an indoor plant in most regions. Annual plants, the other geraniums bloom abundantly all season outdoors until they are killed by the frost in more northern regions.
Geraniums are technically tender perennials. That means in warm climates (zones 8 and 9) such as California, Florida and similar regions they will continue to live on. There they grow as shrubs year round. Regal types need cooler temperatures, especially at night. In areas with hot summers, they bloom outdoors briefly only in late spring. Everywhere, geraniums make popular houseplants.
Recognizing Geraniums
Size: Zonal geraniums will grow from 1 to 2 feet tall and spread as wide as 2 feet if they are pinched back to encourage bushiness over the season. The branches of the trailing or ivy types may grow as long as 4 feet if they are permitted to hang freely from baskets and windowboxes. Regal types may reach 2 1/2 feet tall and 2 feet wide.
Foliage: Leaves of all types of geraniums are very attractive. They are deep green, with scalloped, and sometimes ruffled edges. Zonal geraniums are called that because of the distinctive reddish or yellowish horse-shoe shaped circles on their leaves. Three to five inches wide, the leaves are softly hairy to smooth in texture. Some, such as 'Happy Thought' have heart shaped cream markings on the green zoned leaves. Others have attractive variegation of green and white.
Leaves of the ivy types are glossy and smooth with 5 pointed lobes, resembling the foliage of ivy. Leaves of regal types are rough and pointed and have jagged edges. Several other kinds of geraniums have aromatic foliage, exuding a hint of lemon or spice when crushed. They are described considered to be more herbs than ornamental flowers.
Flowers & Fruit: Most geraniums treated as annuals bloom from summer through to first hard frost. Flowers appear at the ends of straight, bare stems that are from 3 to 7 inches long in clusters of small florets. Flower clusters are rounded, 2 to 3 inches across, and very brightly colored. They may be single (florets have 5 petals) or double (florets have 6 or more petals, some which do not open fully). They range from red, to deep rose, pink, salmon, to white. Those zonals described as "stellar" have narrower, forked petals causing them to resemble stars. Some varieties are bi-colored, their flowers having centers of contrasting colors.
The flowers of ivy geraniums are typically smaller and daintier, their stems attaching to the center of the leaves. Regal types bloom around Easter in the South and are available as pot plants in the North at this time. Their small petaled flowers, reminiscent of azalea flowers, cluster in balls at the ends of slim stems. They come in red, pink, salmon, orange, mauve, purple and white and blends of two or three colors.