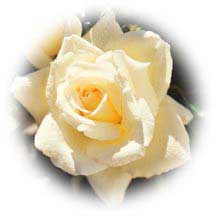 © AARS
Whisper™ (Hybrid Tea)
2003 AARS Winner
Hybrid Tea lovers will find the pureness of
Whisper's
white color most attractive, one of the most stunning white roses introduced in the past decade. Whisper enchants the viewer with classically formed flowers of creamy white with dark green, semi-glossy leaves.
Very resistant to disease
, Whisper is equally at home as a specimen plant or in a cutting garden. This sophisticated rose will grow up to 5 ½ feet by 4 feet and boasts five-inch flowers.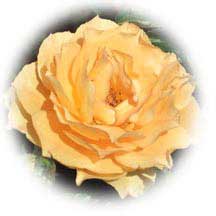 © AARS
Eureka™ (Floribunda)
2003 AARS Winner
Eureka
, which is nearly as wide as it is tall, provides a sparkling hedge-type look with its glittering gold hues. The 3 ½ foot tall Floribunda rose offers a beautiful old-fashioned looking bloom of rich apricot yellow with four-inch flowers. In groups of three or five, Eureka offers a golden anchor to the border, a centerpiece or accent area. It will become very popular because of its abundant blooms, exceptional re-blooming ability, glossy green leaves, easy-to-grow vigor and light fragrance.
Hot Cocoa™ (Floribunda)
2003 AARS Winner
Gardeners will be debating the color of
Hot Cocoa
, a very novel brownish-orange Floribunda washed with smoke on the top and a deep rusty orange on the underside. How about "smoky chocolate orange?" In any case, people of all ages are attracted to Hot Cocoa, whose pointed buds of deep rust unfurl to reveal the color that some call "cinnamon brown" and which often takes on a purpley cast. Large four-inch flowers hold their color and tolerate heat very well.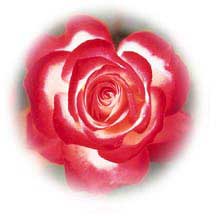 © AARS
Cherry Parfait™ (Granidflora)
2003 AARS Winner
A Grandiflora rose,
Cherry Parfait
, takes maximum advantage of its shrubby appearance as the background for its very showy color. White petals with a broad red edge create a treat for the eyes. Excellent in all climates, Cherry Parfait's loose habit makes it a perfect companion plant in the garden for perennials and shrubbery. Seemingly always in bloom, this attractive bicolor rose is attractive throughout the season, accented by its dark foliage. With its massive dose of color and dark foliage, Cherry Parfait also is an effective container plant. Very effective in a mass planting because of its outstanding color combination,
Rosa Smooth Series by Monrovia Nursery for 2003
Thornless Hybrid Tea Roses

Smooth Angel Thornless Hybrid Tea Rose Rosa x 'Smooth Angel' P.P. No. 6146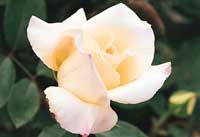 © Monrovia Nursery
Smooth Angel
has large cream petals with warm apricot-yellow centers, very strong sweet fragrance. Bushy form to 4 feet tall.
Display Ideas
Here`s a Rose to keep close by to enjoy its sweet fragrance. Its disease-resistance makes it even more appealing. Plant it by a walk or next to the front steps.
Companion Plants
The white flowers of
Slender Deutzia
(Deutzia gracilis)
complement the apricot-colored roses, and add to the fragrant garden. Add
Goodwin Creek Gray Lavender
(Lavandula dentata `Goodwin Creek Gray`)
for both its flowers and low, mounding contrast of form. Let
Multi Blue Clematis
(Clematis x `Multi Blue`)
clamber about the rose or on a nearby fence.
Smooth Lady Thornless Hybrid Tea Rose Rosa x 'Smooth Lady' P. P. No. 6147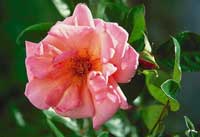 © Monrovia Nursery
Smooth Lady
has medium-sized lovely pink blooms, wonderful fragrance. Repeat bloomer. Grows to 5 to 6 feet tall.
Display Ideas
Enjoy the fragrant blooms of this Rose all summer long. The pink flowers are a welcome sight as they replace many of the fading pink spring flowers. Plant in a traditional Rose garden, or combine with other shrubs and perennials for a true mixed border.
Companion Plants
Plant a grassy skirt of
Silvery Sunproof Lilyturf
(Liriope muscari `Silvery Sunproof`)
around the base of the rose. For a colorful combination, try the reds and pinks of
Island Sunset Fuchsia
(Fuchsia hybrida `Island Sunset`)
as a shrub companion. The late-season wisteria-like blooms of
Hyacinth Bean
(Lablab purpureus)
enhance the pink of the rose.
Smooth Prince Thornless Hybrid Tea Rose Rosa x 'Smooth Prince' P. P. No. 7706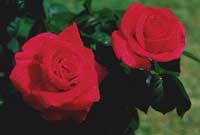 © Monrovia Nursery
Smooth Prince
has well-formed, large, cerise red flowers having a light fragrance. Vigorous grower to 4 to 5 feet tall.
Display Ideas
This Rose works well as a shrub among perennials or ground covers in the border or Rose garden. Plant it within reach for indoor arrangements.
Companion Plants
Use Ivory
Jade Euonymus
(Euonymus fortunei `Ivory Jade`)
as an evergreen companion; its variegated leaves will add interest year-round. Perennials such as
Moonbeam Threadleaf Coreopsis
(Coreopsis verticillata `Moonbeam`)
with its light yellow flowers and the gray foliage and blue flowers of
Russian Sage
(Perovskia atriplicifolia)
combine well with the rose.
Smooth Satin Thornless Hybrid Tea Rose Rosa x 'Smooth Satin' P. P. No. 8910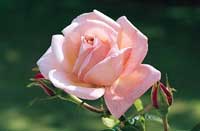 © Monrovia Nursery
Smooth Satin
has beautiful, high-centered, peach-pink flowers, pleasing fragrance. Repeat bloomer. Upright bushy grower to 4 feet.
Display Ideas
Here is a repeat-bloomer that can be easily mixed into the border, where its disease-resistant foliage is a plus. With its apricot blooms, it`s lovely as a Rose among Roses or on display by itself.
Companion Plants
Use with a vine of
Sweet Autumn Clematis
(Clematis paniculata)
for its mass of creamy-white flowers or The
President Clematis
(Clematis x `The President`)
, whose purple blooms will contrast comfortably with the apricot-colored roses. The gray foliage of
Lavender Cotton
(Santolina chamaecyparissus)
is a good foil, as is its rounded form.
For information about all the plants grown by the Monrovia Nursry go to
www.monrovia.com