Any trellis system you use needs to be able to stand up to winds of at least 30 miles and hour when it is covered with plants such as tomatoes. That means that the system needs to be solid from the beginning.

Trellis Systems Mail Order
There are a number of mailorder companies that sell trellis systems for vegetable gardens. Perhaps the one with the most selections is Gardener's Supply Company. Most trellis systems sold commercially will stand no more than 5 feet above the ground, which is fine for most vertical growing veggies, except possibly for pole beans. Pole beans really need a trellis at least six or seven feet tall to accommodate the whole plant effectively.

Materials For Trellis System
One of the most popular materials for building a trellis is bamboo. Bamboo poles can be purchased at garden centers or via mail order. These poles are very strong, and they do not deteriorate when stuck into the soil very quickly. They last longer if you pull them out of the ground over the winter. Other materials include PVC pipe or pressure treated 2 x 2 inch poles sold at most home centers.

Making Your Own Trellis
[[Photo of Birchwood Trellis]]
There are probably hundreds of designs for trellis systems floating around in gardening magazines and on gardening web sites and most of them are perfectly reliable systems. We happen to prefer the system that uses a two foot pieces of 1 ½ inch PVC pipe (sunk into the ground) that serve as a foundation for holding the poles on which nylon netting is attached.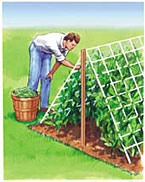 For netting we use heavy duty nylon trellis netting with a mesh of seven inches allowing you to pick both sides of trellis while standing on one side. It is sold in garden centers by
Gardeneer
. For a description and how to use netting go to Yardener's Tool Shed and see the file for
Trellis Netting
. For sources see
The Gardeneer Web Site
.
[[Photo of Jaguar Trellis at Birchwood ]]
A similar system is available from the Jaguar Fence company at
Jaguar's Web Site
. This Jaguar fence can be used very easily as a very stable five foot high trellis system.